Montana OSHA Training
Montana workers in a variety of industries can benefit from OSHA training courses on workplace health and safety. Without a separate state program for the safety and health of workers, Montana businesses fall under federal jurisdiction and must follow OSHA guidelines. Even if your current employer does not require OSHA Outreach training, earning an official OSHA card is a low-cost way to improve your resume for future job opportunities in Montana.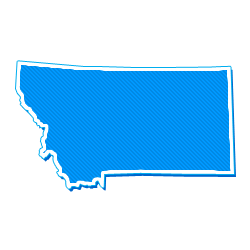 Montana Labor Laws
The Montana Department of Labor and Industry addresses federal and state labor laws. State laws related to employment include regulation regarding collective bargaining, construction, hiring and firing, human rights, insurance and benefits, safety, wages and protection. Public employers have a specific set of laws they must adhere to, including smoking in public places and employment preference for the disabled, Native Americans, and veterans.
A primary focus of the Montana Safety and Health Bureau is increasing safety in the mining industry. It provides training for mine operators and miners on a number of topics and provides the following services:
Public sector workplace compliance with safety and health standards
Private sector OSHA consultations - helps with OSHA compliance
Workplace technical assistance on safety and health issues
Provide industrial hygiene services
Workplace safety and health training
OSHA 10 Hour courses for high school and college students and staff
Mine training
Inspections of coal mines
Inspections of sand and gravel operations
Improve safety by incorporating the Montana Safety Culture Act into your organization
Montana Top OSHA Violations
Montana's leading cause of workplace fatalities has recently been related to transportation and material moving. Though there can be many causes for this type of tragedy, backover, which occurs when a reversing vehicle hits a worker behind it, is common yet easily preventable. Nationwide, more than 70 workers were killed in this manner in 2011.
The most cited standard, which also receives the highest penalties, is for fall prevention in construction. Falls commonly causes serious work-related injuries and deaths, and OSHA has many guidelines to help prevent them.
Further Reading and Resources
OSHA Courses
Online OSHA courses provide fast and efficient training for workers. While classroom courses are offered throughout the state, online OSHA Outreach training guarantees high-quality, interactive education for every student, with downloadable lesson reviews, course trainer access and 24/7 live customer support.
These courses can be completed on your time, stopped and resumed as often as you want. Choose from the courses below to learn more about OSHA training available for your area.
Montana Courses Online
What You Get
Instantly Downloadable Certificate
Official OSHA Card
Email Access to OSHA-Authorized Course Trainer
OSHA Guidelines
OSHA's purpose is to provide safe conditions for workers. OSHA sets very broad and general regulations that most businesses must followed, as well as more detailed standards for specific industries, from construction to cosmetology and beyond.
Receiving OSHA training has benefits beyond meeting requirements and keeping employees safe. It leads to healthier employees with more ease of mind, which increases productivity. Boosting morale, it reduces turnover and the time and resources spent on recruiting and training replacements. It reduces productive workers' time away from the job due to injury and illness. This is all in addition to helping protect you from OSHA's retribution, as it can levy heavy fines for not following the standards presented in our OSHA courses.