OSHA 1910 Standards Training For General Industry introduces you to OSHA policies, procedures, and regulations as well as general industry safety and health principles. When you successfully complete the course, you will receive a Certificate of Completion.
Register Now
Includes OSHA 29 CFR 1910
Regulations Book Shipped Free!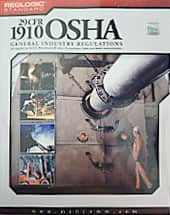 Taking your OSHA regulations course online offers benefits such as:
Work anytime, anywhere — 24/7 access
Log on and off as often as you like to work at your own pace
Course trainer email access for any questions you have
Includes Glossy Paperback 29 CFR 1910 Regulations Book
Course Details
When you complete this course, you will be able to:
Locate and apply OSHA Safety and Health standards, policies, and procedures.
Utilize OSHA standards and regulations to supplement an on-going safety and health program.
Identify common violations of OSHA standards and propose abatement actions.
Describe appropriate abatement procedures for selected safety and health standards.
Your Online OSHA 1910 Standards Training For General Industry Course
Receive your OSHA course certificate
Learn How to Implement a Safety and Health Program
All materials available online (dial-up or broadband) with 24/7 access
Take up to 180 days to complete the course
*Upon successful completion of online courses students will receive a completion certificate.