What Is an OSHA Card?
Written by Joey Rosenberg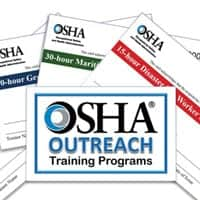 Source: U.S. Department of Labor
OSHA cards are plastic, wallet-sized cards that the U.S. Department of Labor (DOL) issues to students who complete a course in the OSHA Outreach Training Program.
The purpose of this safety training program is to teach workers how to recognize and avoid common job-related hazards. Several types of Outreach courses are available for specific job roles and industries, including 10-hour classes for workers and 30-hour classes for supervisors.
The type of card you receive depends on which course you take. While OSHA does not require workers to earn an OSHA card, a growing number of employers have made 10- or 30-hour Outreach training a job requirement.
Some cities and states, including New York City and Nevada, have developed mandatory worker safety programs that include OSHA Outreach courses.
Who Needs an OSHA Card?
If your state or employer requires you to earn an official OSHA card, then you need to complete OSHA Outreach training. Although this training is voluntary, certain industries and locations require workers to get an OSHA card before they start work.
Some employers tell workers they need to get an OSHA certification — but OSHA doesn't actually consider the OSHA card a certification. If a boss or safety manager says you need to get OSHA certified, that typically means you need to complete Outreach training and earn an OSHA DOL card.
If you're not sure which OSHA course you should take, ask your employer about the specific training requirements for your role.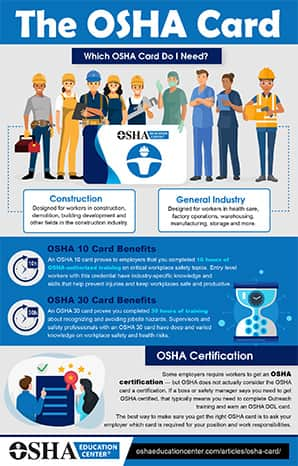 Types of OSHA Cards
The Department of Labor issues 12 types of OSHA Outreach cards:
10-Hour Maritime Card
30-Hour Maritime Card
7.5-Hour Disaster Site Worker Card
15-Hour Disaster Site Worker Card
Construction Trainer Card
General Industry Trainer Card
Maritime Trainer Card
Disaster Site Worker Trainer Card
OSHA cards come in a variety of types based on the training program's length and industry focus. Construction cards, general industry cards and maritime cards have a 10-hour and 30-hour version. There are also 7.5- and 15-hour cards for disaster site workers.
OSHA 10 Card Benefits
An OSHA 10 card proves to employers that you completed 10 hours of OSHA-authorized training on critical workplace safety topics. Entry-level workers with this credential have industry-specific knowledge and skills that help prevent injuries and keep workplaces safe and productive.
OSHA 30 Card Benefits
Supervisors and safety professionals with an OSHA 30 card have deep and varied knowledge on workplace safety and health risks. They completed 30 hours of training on recognizing and avoiding jobsite hazards, and they're prepared to play a key role in building a culture of safety in the workplace.
Which OSHA Card Do I Need?
People who do any type of construction work typically need to take a 10- or 30-hour OSHA construction course. General industry courses are appropriate for most roles outside of construction, including jobs in manufacturing, health care, warehousing, retail and distribution. The maritime and disaster site worker cards are specific to those industries.
In addition to Outreach course completion cards, the DOL issues trainer cards for construction, general industry, maritime and disaster site programs. These cards are for individuals who OSHA authorizes to teach Outreach courses.
The best way to make sure you get the right OSHA card is to ask your employer which one is required for your position and work responsibilities.
How Do I Get My OSHA Card?
To earn an official OSHA card, you must:
Enroll in an OSHA Outreach training course
Complete your training online or in person
Pass the final assessment
When you pass the assessment for online Outreach training, you can instantly download a certificate of completion. Your official OSHA card will arrive at a later date.
How Long Will It Take for My OSHA Card to Arrive?
Once you complete Outreach training, it can take up to 90 days for your Department of Labor card to arrive. While your card is being processed, you can use your certificate of completion as proof that you completed your training.
How Long Does It Take to Earn an OSHA Card?
Most OSHA Outreach courses are 10 or 30 hours in length. However, OSHA doesn't allow students to complete their training in one sitting.
According to OSHA regulations, Outreach students are limited to a maximum of 7.5 hours of training per day. That means it will take at least two days to complete an OSHA 10 course and at least four days to complete an OSHA 30 course.
With online Outreach training, you can log in and out of the course anytime 24/7 to work on the program. When you log out of the course, it automatically saves your place.
While you have the option to space out your training and work on the course a little at a time, OSHA requires students to complete Outreach training within six months of starting the course.
What Does an Official OSHA Card Look Like?
All OSHA DOL cards are printed on durable card stock. The cards, about the same size as a credit card, have a white background and a colored stripe that indicates the program's industry and course length.
You can visit OSHA's website to see pictures of each Outreach card.
OSHA cards feature the following information:
Student name
Course name
Trainer name
Issue date
Unique card number
Name of OTI Education Center that provided the card
The back of each card also has a QR barcode that anyone can scan to verify the card is authentic.
Colors of OSHA Cards
All OSHA cards have a white background. Worker cards feature a horizontal stripe that is color coded based on training program you completed:
An orange stripe for 30-Hour Construction training
A yellow stripe for 10-Hour Construction training
A dark blue stripe for 30-Hour General Industry training
A light blue stripe for 10-Hour General Industry training
A dark green stripe for 30-Hour Maritime training
A light green stripe for 10-Hour Maritime training
A light red stripe for 15-Hour Disaster Site training
A dark red stripe for 7.5-Hour Disaster Site training
OSHA trainer cards, which are issued to OSHA-authorized training providers, feature vertical stripes instead of horizontal ones. The stripe color is yellow for construction trainers, blue for general industry trainers, green for maritime trainers and red for disaster site worker trainers.
How Can I Confirm an OSHA Card Is Valid?
Employers and card holders can check the validity of a DOL card using the QR code printed on the back of the card. When you scan this special barcode with your smartphone or camera-enabled device, you'll be directed to a website that tells you whether the card is authentic.
Many smartphones can scan QR codes using the built-in camera app, but you may need to download a QR code reader app for certain devices.
Do OSHA Cards Expire?
No, OSHA cards do not expire. However, some cities, states and employers may require workers to retake Outreach training after a certain period of time has passed. The date your DOL card was issued is printed on the front of the card.
Can I Order a Replacement OSHA Card?
Yes. To replace a lost or damaged OSHA card, contact the OSHA-authorized provider you purchased your course from. OSHA Education Center offers one replacement card for a fee of $45. You must request a replacement within five years of your original card's issue date.