Top 5 OSHA Violations of 2015
Written by Staff Writer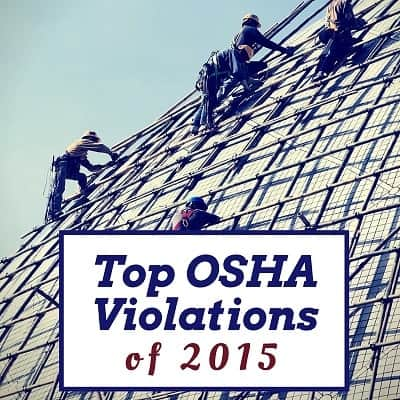 Each year at the National Safety Congress & Expo, OSHA presents a preliminary list of the most frequently cited workplace safety violations of the year. This list serves as a guideline for improvement, identifying some of the most important hazards to avoid in order to prevent any incidents on the worksite. Check out the top five standards violated in 2015, with some information on how employers and employees can work together to avoid those violations in 2016.
5. Lockout/Tagout (1910.147) - 3,002 Citations
About The Standard: Workers who service, repair and maintain equipment or machines run the risk of harm if said equipment is unexpectedly energized or started during work. Lockout/Tagout standards establish procedures and requirements for the control of such hazardous energy. Most citations in this area occur when an employer fails to have an energy control program, does not properly train employees on proper procedures or does not periodically inspect energy control procedures.
What To Train: Standards training is available in a one-hour Lockout/Tagout certificate course and is also included as a topic in 30-hour training for General Industry. As always, training on these OSHA standards should be accompanied by very specific training programs and procedures for workers in their unique workplace environment and with the specific equipment they are working on.
4. Respiratory Protection (1910.134) - 3,305 Citations
About The Standard: Employees who work around harmful dusts, fogs, fumes, mists, gases, smokes, sprays and vapors are at risk of very dangerous occupational diseases if precautions are not taken to protect their respiratory systems. OSHA's Respiratory Protection standards set expectations for control measures, respirator use, cleaning and repair, written programs and worker medical evaluations, and these citations are most frequently issued for medical evaluation requirements, implementation of a written respiratory protection program and fit testing.
What To Train: Workers and employers should review information regarding Personal Protective Equipment and should also make sure they have a customized respiratory protection plan for workers.
3. Scaffolding (1926.451) - 4,295 Citations
About The Standard: Scaffolds are temporary structures used by workers while building, repairing and cleaning structures, and unfortunately they can put workers in danger of falls, slips or struck-by falling object hazards. Specific standards have been put into place to create requirements for the design, construction and use of scaffolds. Citations under these scaffolding standards occur in the areas of employee fall protection, means of access, planking/decking, fall arrest or guardrail systems, and adequate firm foundation.
What To Train: Employees and employers building or using scaffolds can take a one-hour Scaffold certificate course to brush up on regulations and requirements.
2. Hazard Communication (1910.1200) - 5,192 Citations
About The Standard: Hazard Communication standards address chemical hazards produced or used in the workplace and governs how those hazards are communicated to workers through things like labels, safety data sheets and classification standards. Recent updates in Hazard Communication standards aligned OSHA's standards with the Globally Harmonized System (GHS) standards already used internationally. When the new updates began going into effect in 2013, many businesses did not properly implement revisions or train employees on the new standards. Most violations, though, were due to employers not having a written hazard communication program at all or not providing training and information on hazardous chemicals to workers.
What To Train: Workers or employers who need to get familiar with up-to-date Hazard Communication standards can take an updated Hazard Communication Training course. This information is also contained in 10-hour or 30-hour General Industry courses offered by OSHAEducationCenter.com, so any new employees taking this training will be prepared to help prevent these violations.
1. Fall Protection (1926.501) - 6,721 Citations
About The Standard: Fall protection standards were designed to help prevents falls, which are the leading cause of death in construction. This section of standards sets requirements for employers to provide fall protection to employees working or walking on surfaces that may be unstable or have unprotected sides and edges. Depending on the situation, the employer may be required to supply (and train workers to properly use) guardrail systems, safety net systems or personal fall arrest systems. The majority of these violations occur on residential construction worksites.
What To Train: Many employers choose to have Construction employees complete our 10-hour OSHA Outreach Training for the Construction Industry course, which covers Fall Protection in depth. Employers and employees can also take a 1-hour Fall Protection Training course to refresh familiarity with requirements and standards that can result in potential violations.