Top 5 Advantages of Online OSHA HAZWOPER Training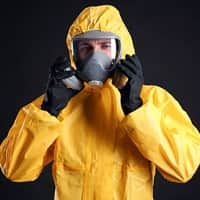 Hazardous Waste Operations and Emergency Response (HAZWOPER) training provides critically important safety education to workers who handle dangerous chemicals and other hazardous substances at uncontrolled hazardous waste sites.
While HAZWOPER training has traditionally been taught through in-person classroom sessions led by an instructor, the convenience and flexibility of online training has made it an increasingly desirable format for workers and employers alike.
OSHA Education Center provides several options for online HAZWOPER training, including:
All our courses satisfy OSHA HAZWOPER standards under 29 CFR Part 1910.120. Workers at uncontrolled hazardous waste operations must complete an appropriate HAZWOPER course before they can set foot on the jobsite.
If you need a HAZWOPER certificate to start work or stay on the job, it's never been easier to complete your training on your own terms. Learn about the top five advantages online training has over classroom-based programs.
1. Find Unmatched Flexibility
One of the most inconvenient aspects of classroom-based HAZWOPER training is that you're confined to a training schedule you can't control. Your employer and the course instructor's availability determine the dates and duration of in-person sessions.
But with online HAZWOPER training, you can progress through the course whenever it's most convenient for you. You can access your training 24/7. And you can take as many breaks as you need without disrupting the class or missing a second of vital safety and health information.
Our online learning platform saves your place, allowing you to pause your training at any time and pick back up exactly where you left off. Even on days when you have less than 30 minutes of downtime to study, you can still make progress. You'll never find that level of flexibility in a classroom environment.
For employers, online training means the entire team doesn't have to be tied up in the classroom for eight hours or longer, potentially for several days in a row. Supervisors have the freedom to stagger which employees receive training and when. That way, the team can still get the job done while some employees are mastering critical safety knowledge.
2. Train Wherever You're Most Productive
Whether you prefer to study at work, at the library, in your home office — or even from the comfort of your couch or bed — you can work on your online HAZWOPER training anywhere with internet access.
While some people thrive in a classroom setting, others prefer the freedom to choose their own ideal learning environment. Only you know where, when and how you study best.
Are you a morning person or a night owl? Do you concentrate better in public with some background noise, or do you need complete silence and no distractions? With online training, you can think about the conditions in which you absorb information best and choose a place and time that's ideal for your learning style.
3. Avoid Burnout
While everything you learn in HAZWOPER training is essential, you'll likely find some topics more engaging than others. A reality of classroom-based training is that learning for hours on end can cause anyone to become burnt out and unproductive.
Daily classroom sessions for 40-hour HAZWOPER training can last up to nine hours, and it takes four or five days to complete the program. And classroom sessions are typically held on consecutive days. With this learning schedule, it's not uncommon for students to experience mental fatigue at some point in the program.
But you don't want to lose focus while learning about a topic as important as OSHA HAZWOPER standards. If you're not paying attention, you could miss essential information that protects you and your co-workers from serious injuries or death.
Fortunately, online learning allows you to take a break anytime you need one. You'll benefit greatly from short mental breaks, and you can decide to wrap up your training for the day if necessary. Either way, you can resume your course exactly where you left off.
4. Set Your Own Training Schedule
While your employer will probably give you a deadline for earning your HAZWOPER certificate, with an online program, you can split up your training sessions however you like. In a classroom setting, you don't have the ability to set your own pace.
Online HAZWOPER also lets you take advantage of your downtime. When your job, household chores and other responsibilities are less demanding, you can invest extra time in your training. And during those especially busy weeks, you can take a day off or work on the course in short bursts.
5. Save Money and Time
Another great advantage of online training is the affordability. While the cost of in-person HAZWOPER training varies depending on the provider and the number of students, it's typically more expensive than online training.
Because online HAZWOPER training doesn't require an instructor who needs to get paid, it has lower initial costs and management costs. Online learning also scales much better than an in-person format. Classroom size doesn't limit the number of workers who can train at once, and employers can get significant discounts by ordering multiple courses at once.
You may also save time and money on travel by choosing online HAZWOPER. When classroom training is held off-site, you may have to pay out of pocket for gas and parking. And whether you're driving or taking public transportation, you could waste precious time sitting in traffic. That's simply not an issue with online HAZWOPER.
Can I Complete HAZWOPER Training Entirely Online?
While you can meet the learning portion of your HAZWOPER training 100% online, computer-based training can't provide vital hands-on experience with personal protective equipment (PPE) in a safe setting. Workers at uncontrolled hazardous waste sites also need to learn about site-specific equipment and hazards.
While hands-on experience is crucial for teaching workers how to use air monitoring equipment and put on and take off PPE, online training meets the requirements for the majority of HAZWOPER training objectives.
To ensure that you're adequately trained for an uncontrolled work environment, you'll need to complete one to three days of supervised field experience after you complete your online course. Your current or future employer will explain how to satisfy the field experience requirement.
Sources
Koshy, K. et al. (2018, January). Online PPE Training: Developing a Pilot Program for Secondary Schools. Retrieved from https://aeasseincludes.assp.org/professionalsafety/pastissues/063/01/F2_0118.pdf
Occupational Safety and Health Administration. (2013, February 8). 1910.120 - Hazardous waste operations and emergency response. Retrieved from https://www.osha.gov/laws-regs/regulations/standardnumber/1910/1910.120#1910.120(a)(1)