OSHA Classes: Online vs. In-Person Training
Written by Joey Rosenberg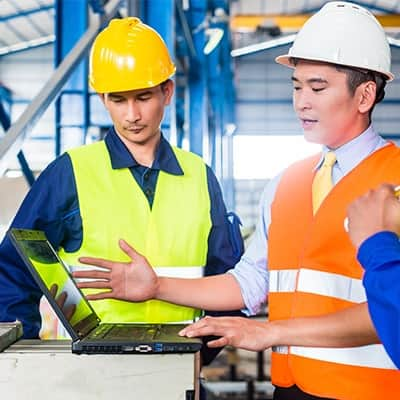 The U.S. Occupational Safety and Health Administration (OSHA) ensures that workers receive proper training in workplace safety. One way it achieves this goal is through 10- and 30-hour OSHA Outreach classes, which promote the basics of occupational safety and health for several industries.
Outreach training is available to workers and supervisors in online and classroom-based formats. Each version comes with advantages and disadvantages. Personal preference also plays a role. Some students prefer to train at home on their computer or mobile device, while others thrive in a classroom setting.
The online format for OSHA training is convenient and affordable, and you can complete it anywhere with internet access. And the classroom format makes it easier for students to engage with instructors and share their learning experiences with co-workers. Learn more about the advantages and disadvantages of each option.
What Are the Pros and Cons of Online OSHA Training?
The digital age has made the world a smaller place. That means it's much easier to deliver effective OSHA training into the home or workplace. Online Outreach training has many advantages and some minor disadvantages.
Advantages of online OSHA training include:
You can train 24/7 anywhere with internet access
You can learn at your own pace
It's often more affordable for workers and employers
With an online training program, you can log in at home or work to complete your learning modules. You can finish multiple modules in one sitting or spread out your training over a couple days.
Many workers find online OSHA classes easier to complete than classroom-based programs. They can go at their own pace, breezing through familiar topics and spending extra time on unfamiliar subjects.
Online classes also tend to be less costly than in-person training. Employers don't need to reserve space or take workers off the job to complete their training. Employers can deliver the same training without spending nearly as much, providing an even better return on investment.
The biggest detriment of online training is that students cannot get answers about course topics as readily as they could in a classroom setting. Fortunately, online students can email questions to OSHA Education Center's course trainers 24/7 to get answers about any topic covered in the program.
What Are the Pros and Cons of Classroom-Based OSHA Training?
The greatest advantage of in-person training is your immediate access to experienced experts in the field. You can ask a question as soon as it arises, and everyone present will learn the answer.
Other advantages of in-person OSHA classes include:
Workers complete the course together as a group
The shared experience makes learning more fun and immersive
Employers can be certain students are engaged in the coursework
The biggest downside to classroom learning is the need for space and time. It costs money to host a group in a location and present the materials needed to complete the courses. In-person training also has a set schedule, making it much less flexible than online courses.
What kind of OSHA Classes Are Available?
Both online and in-person learning formats enable workers to complete their OSHA-authorized training and earn an official OSHA card. For either option, the course you should take depends on your industry and job role.
10-Hour OSHA Outreach Training
OSHA 10 classes prepare entry-level workers to avoid common hazards in the workplace. This training introduces people to OSHA and important workplace rights. It also explains the employer's responsibility to provide a reasonably safe and healthful work environment.
Industry-specific versions of the OSHA 10 course are available for workers in construction and general industry. Students who complete the course obtain an OSHA 10 completion card affirming their program success.
30-Hour OSHA Outreach Training
Designed for managers, supervisors and workers with some safety responsibilities, the OSHA 30 class goes into more depth on workplace safety topics than OSHA 10. Upon successful completion of the course, workers earn an 30-hour OSHA completion card.
Like the 10-hour Outreach program, the 30-hour course is available in industry-specific versions for workers and supervisors in construction and general industry.
Whether you choose an online or in-person format, OSHA-authorized training prepares you to keep your workplace reasonably safe for all. Workers and supervisors learn about the latest industry-related health and safety procedures, which promotes a healthful workplace and minimizes accidents and occupational hazards.