March 17-23rd is National Poison Prevention Week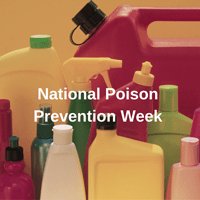 We are exposed to poisons and potentially hazardous chemicals both at work and at home, sometimes without even realizing any danger exists at all. Recognizing and understanding these hazards is the best way to keep yourself, your family, and your employees safe. According to American Association of Poison Control Centers, every year, America's 55 poison centers receive millions of calls, the majority of which are about people coming into contact with dangerous or potentially dangerous substances.
The good news is there are many steps you can take to work safely around potentially hazardous chemicals, which we will discuss shortly. However, if you ever have an emergency and need help right away, the Poison Help line is available at 1-800-222-1222 or you can also visit PoisonHelp.org.
Now that you have some tips for what to do in case of a serious emergency, addressing prevention is essential to everyone's safety both at work and at home. Luckily, Hazard Communication, also oftentimes referred to as HazCom, is based on a simple concept that employees have both a need and a right to know the hazards and identities of the chemicals they are exposed to while working.
The Hazard Communication Standard (HCS) is aligned with the Globally Harmonized System of Classification and Labeling of Chemicals (GHS). This process began in 2012 and as of June 1, 2016, all companies must comply with the GHS.
According to OSHA.gov, the following includes major changes to the Hazard Communication Standard:
Hazard classification: Provides specific criteria for classification of health and physical hazards, as well as classification of mixtures.
Labels: Chemical manufacturers and importers will be required to provide a label that includes a harmonized signal word, pictogram, and hazard statement for each hazard class and category. Precautionary statements must also be provided.
Safety Data Sheets: Will now have a specified 16-section format.
Information and training: Employers are required to train workers by December 1, 2013 on the new labels elements and safety data sheets format to facilitate recognition and understanding.
While the new updates to the Hazard Communication Standard (HCS) have been in place for some time now, it's important to ensure employees are up-to-date and receive regular training regarding potentially hazardous chemicals in the workplace. Our GHS & Hazard Communication Online Course serves businesses who need an efficient, effective and affordable route for training employees in this subject area.
In addition, we also provide training for Crystalline Silica Awareness for employees who work around this hazardous material. For more information or to register for this course, please click here.
For more information on poison control centers and to locate your local center, please click here.