What OSHA Training Course Do I Need?
Written by Staff Writer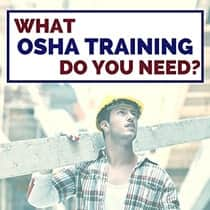 Safety training is a vital part of many places of employment and helps to save lives and minimize injuries in the workplace. Many workers contact OSHA trainers or training companies asking which course would be most relevant to their needs. Unfortunately, this is a question that is best answered by employers. Employers have a legal responsibility to provide a workplace free from hazards, so it is imperative that both employers and employees work together to understand what sort of training is necessary.
We've created some helpful guidelines that can assist employees and employers in deciding which OSHA training course may best suit your needs.
Is OSHA 10 or 30 Training Mandatory?
While OSHA Outreach training is a voluntary program that OSHA does not require workers to complete, employers, unions, and your state or local jurisdiction may make it mandatory to take OSHA 10 or 30 training. Always check with your employer or local government to ensure you are adequately trained for your role.
All workers can benefit from OSHA safety training. Many employers use 10-hour or 30-hour OSHA Outreach training as a baseline introduction to workplace safety hazards and workers' rights under OSHA. Following this course, your employer may require you to complete additional training on site-specific hazards you might encounter on the job.
Do I Need Construction or General Industry OSHA Training?
We offer two types of OSHA training — Construction Industry and General Industry — that feature specialized topics depending on the industry chosen. Generally, employers will instruct their employees on which version of Outreach training will be needed, so if you are unsure, please contact your employer to find out which training you need. OSHA defines "construction work" as work for construction, alteration and/or repair, including painting and decorating.
General Industry refers to any industry not included in construction, maritime or agriculture. It includes (but is not limited to): health care, manufacturing, warehousing, distribution and retail.
Taken directly from OSHA standards, these descriptions are the best guidelines to determine which course would be best suited for your job. But another option is to check out the types of topics covered in each course and decide which are more relevant to the types of workplaces you will be in. If the course you choose does not cover any important topics that you will encounter on a worksite, make sure to supplement training with OSHA Compliance Training or on-the-job training.
OSHA 10-Hour Or OSHA 30-Hour?
The 10-Hour OSHA training course is sufficient for many entry-level workers, but the actual requirements will depend on what your workplace wants. 30-Hour OSHA training is generally recommended for supervisors, site leads or managers who will have any sort of safety responsibility. 30-Hour training not only goes a bit more in-depth on the topics, but also includes a wider breadth of topics.
Still have questions about which OSHA course may be best for you or your workers? Our knowledgeable staff is ready to help in any way they can!