When Is the SST Card Deadline for NYC Construction Workers?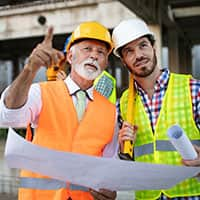 Beginning March 1, 2021, New York City construction workers must have an SST Worker card, also known as a Full SST card, to work at most major worksites in the five boroughs.
The latest Site Safety Training (SST) standards were established by NYC Local Law 196 of 2017, which will soon require construction and demolition workers to have an SST card to enter any jobsite with a Site Safety Plan.
To qualify for an SST Worker card, you need to complete 40 hours of construction safety courses that are approved by the NYC Department of Buildings (DOB).
Note that you cannot earn a 40-hour SST card just by completing a 10-hour OSHA course and a 30-hour OSHA course. Your training must include certain NYC-specific courses designed for the SST program.
Current workers, who were required to earn an OSHA 30 card or Limited SST card by December 2019, need to complete 10 additional hours of training by the March 1, 2021, deadline.
Workers who started in the NYC construction industry after the December 2019 deadline, also known as new entrants, must take a 10-hour OSHA course before they begin working. Once they start the job, they will need to complete an additional 30 hours of training within six months to qualify for the SST Worker card.
Can I Meet SST Training Requirements Online?
Yes, you can complete your SST training 100% online. Whether you're a current worker or new entrant, you can take advantage of online courses. Benefits of online courses include the opportunity to create your own schedule and train at your own pace.
OSHA Education Center's OSHA 10, OSHA 30 and SST courses are DOB-approved and meet all SST requirements. Our online courses give you the flexibility to work from anywhere, at any time. They feature audio narration, interactive exercises and real-life case studies.
You can also apply for your SST card online, whether you completed your training with us or any other DOB-approved training provider. You will need to submit training certificates for any courses you did not take with OSHA Education Center.
After you submit your proof of training and we have verified that you met all training requirements, you will receive your SST card by mail.
Which Workers Need an SST Card by March 1, 2021?
Local Law 196 training requirements apply to construction and demolition workers at any New York City jobsite that has a Site Safety Plan. This includes all jobs with a designated Site Safety Manager, Site Safety Coordinator or Construction Superintendent.
Types of workers who are required to complete SST include:
Construction workers
Demolition workers
Journeypersons
Forepersons
Employees of DOB licensees or registrants
You can visit the DOB Site Safety Construction Map to find out if your worksite requires an SST card. If your job's address is listed on the map, then you will need an SST card to work there.
What Are the Course Requirements for an SST Worker Card?
Workers have two options for obtaining the 40 hours of training needed to receive an SST card.
Option 1: Current Workers (OSHA 30 Cardholders)
Option 2: New Entrants (OSHA 10 Cardholders)
4 hours of SST General Electives
4 hours of SST Special Electives
SST General Elective Options Include:
SST Special Elective Options Include:
Option one is ideal for current workers that are currently required to have an OSHA 30 card. Option two is designed for new entrants (workers who joined the NYC construction industry after December 1, 2019).
Past SST Training Deadlines
NYC Local Law 196 became effective in October 2017. The DOB scheduled the new Site Safety Training requirements to roll out in three separate phases.
Phase One
The deadline for the initial phase was March 1, 2018. In the first phase, workers were required to complete at least 10 hours of training. This requirement could be met with a 10- or 30-hour OSHA Outreach course.
Phase Two
The second SST deadline was December 1, 2019. In phase two, workers were required to have 30 hours of Site Safety Training. This requirement could be satisfied by earning either a Limited SST card or an OSHA 30 construction card.
Phase two was also the deadline for supervisors to earn their SST Supervisor card. The supervisor card requires 62 hours of training.
Phase Three
The final SST deadline is March 1, 2021. By this date, workers need to have 40 total hours of Site Safety Training and an SST Worker card. The original date for this phase was September 1, 2020, but the DOB extended the deadline.
Sources
NYC Department of Buildings. (n.d.). Background, Requirements, & Reports. Retrieved from https://www1.nyc.gov/site/buildings/safety/sst-background-requirements-reports.page
NYC Department of Buildings. (n.d.). Site Safety Training – Local Law 196 of 2017 FAQs. Retrieved from https://www1.nyc.gov/site/buildings/safety/sst-faqs.page
NYC Department of Buildings. (n.d.). SST Worker Information. Retrieved from https://www1.nyc.gov/site/buildings/safety/sst-worker-information.page