OSHA Outreach 30-Hour Training Online
Entry- to Senior-Level Construction Workers
Site Supervisors
Foremen
Safety Managers
Entry- to Senior-Level Factory Employees
Health Care Professionals
Warehouse Supervisors
Manufacturing Supervisors
Popular OSHA 30 Bundles
Bundle your OSHA 30 course with Aerial and Scissor Lifts or
Scaffold Safety Awareness:
Convenient Course Packages
100% Online Courses
#1 Trusted Provider of OSHA-Authorized Training
Learn More
What Is OSHA 30-Hour Training?
OSHA 30-Hour training for construction and general industry prepares supervisors and workers to avoid workplace safety and health risks. Our OSHA-authorized courses are 100% online and accessible 24/7 from any web-enabled device. Topics covered in OSHA 30-Hour training include general worksite safety, avoiding common hazards, understanding workers' rights, employer responsibilities and more. Finish your training at your own pace and earn an official OSHA 30 card from the U.S. Department of Labor (DOL) — a common requirement for employment in construction and other industries.
Who Needs OSHA 30-Hour Training?
OSHA 30-Hour Outreach training benefits supervisors and workers with safety roles, including those in construction, manufacturing, factory operations, health care and more. Our OSHA 30 courses promote safe and healthful work environments by training workers to identify, predict and avoid hazards in the workplace.
Our OSHA 30-Hour Construction course is appropriate for workers who perform new construction, alterations or repairs. If you are a supervisor in any industry other than construction, agriculture or maritime, OSHA considers you a general industry worker and recommends the OSHA 30-Hour General Industry course.
OSHA 10-hour training is appropriate for entry-level workers who do not have specific safety responsibilities for their role.
How to Earn Your OSHA 30 DOL Card
When you successfully complete OSHA 30-hour training, you will receive an official OSHA 30 DOL card in construction or general industry. We'll deliver your plastic, wallet-sized OSHA 30 card by mail free of charge.
Immediately after you finish the course, you can download a certificate of completion. While you wait for your OSHA 30 card to arrive in the mail, you can provide the certificate to your employer to prove you completed your training.
What Are the Benefits of an OSHA 30 Card?
Acquiring an OSHA 30 DOL card proves to employers that you have completed 30 hours of OSHA-authorized training on critical workplace safety topics specific to your industry. Supervisors and workers with this credential have gained knowledge and skills that help prevent injuries and keep workplaces safe and productive.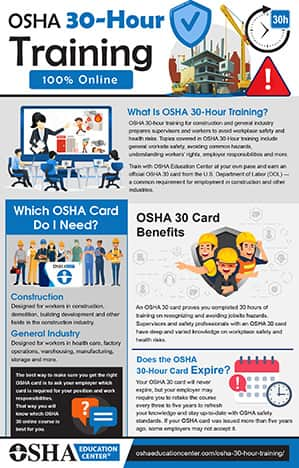 OSHA 30-Hour Training Course Details
Our online OSHA-authorized courses feature:
Audio narration
Interactive exercises and quizzes
Real-life case studies
Discounted rates for bulk orders
24/7 course access from any desktop, laptop or mobile device
An OSHA-authorized trainer who can answer your questions
Which OSHA 30 Course Do I Need?
OSHA 30-hour training is available in two industry-specific versions: construction and general industry. To ensure you're properly trained to avoid common hazards at your workplace, you should take the version that best aligns with your industry. Your employer can tell you which course will meet the training requirements for your role.
The OSHA 30-Hour Construction course is designed for supervisors in construction, demolition, building development and other fields in the construction industry. It includes a detailed overview of the most common risks of construction work, including fall hazards, caught-in or -between hazards, struck-by hazards and electrocution.
OSHA 30-Hour General Industry training is appropriate for workers in any industry outside of construction, agriculture or maritime. This course is ideal for workers in manufacturing, factory operations, warehousing and storage, health care and more. OSHA general industry training covers a wide range of occupational hazards, including risks related to walking and working surfaces, materials handling, bloodborne pathogens, fires, machinery and more.
Do OSHA 30-Hour Cards Expire?
Your OSHA 30 card will never expire, but your employer may require you to retake the course every three to five years to refresh your knowledge and stay up-to-date with OSHA safety standards. If your OSHA card was issued more than five years ago, some employers may not accept it.
"Quick and easy. This course covers what I need to complete my application. Well worth it!"

— Bill S.
Over 60,000 Reviews — See All